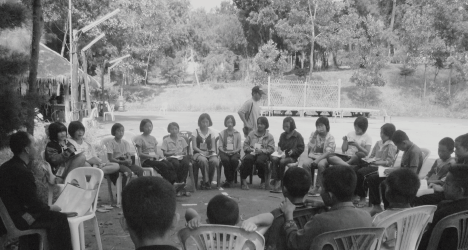 By Somchai Soonthornturak – TPTL Evangelist, Thailand
Merry Christmas and Happy New Year!
The year 2013 is ending, but the preaching of the Gospel of Jesus Christ does not end. We praise and thank God for the way He led us, helping us to walk with Him step by step. A lot of people showed great interest in the Gospel and many came to trust in Jesus Christ as their Lord and Saviour. Saengthong and I have visited and followed up the new believers regularly. It is encouraging that some of them  have visited us or sent us letters or phoned us.
At the present time, we are very busy with our Christmas Outreach in schools, shopping centres, orphanages, hospitals, jails, slums and churches, and nightly open-air meetings.  It is our pleasure to share what God has done during the months of September and October.
Heavy monsoon rain and flooding made it difficult for us to hold open-air rallies, but thank God, we were able to preach in schools, village halls, homes and streets, as well as distributing the Gospel of John and Christian booklets and tracts in Bangkok and upcountry. Youth and Children Camp and Combined TPTL Churches Camp were held during October at Khao Kro Palace at Phetchaboon's Khao Kro District. 320 children and youths attended, many of them accepted Christ as personal Saviour. Praise and glory be to God!
The theme of the Camp was, "Step Together". Saengthong and I did the teaching. I also preached at night meetings. Saengthong, assisted by some volunteers, cooked for the camp.
After the Camp we continued our open-air meetings in Smong hill-tribe villages in the mountains, and in Thai villages. 26 people committed themselves to Jesus. Praise God! George and Rita Galieh of Sydney, Australia, arrived on November 10 for our Christmas Outreach. They have joined hands with us in this ministry for 20 years. Please pray for the Campaign during November and December.
• Safe journey from place to place
• Ministry at Ban Rai Blessed Church, Kanchanaburi Province – November 8-10
• Welcome to George & Rita – November 10
• Wedding Ceremony which I will be conducting for our church members at Pattaya Baptist Conference Centre – November 11
• George & Rita preaching at Open-air Meetings at Suang Lung – November 13
• Preaching at Ti Sip SPC Government School – November 14
• Preaching at Suntisuk Church in the slum at Samupra's Prasamutjadee – November 15
• To Central Thailand – November 16-19
• Preaching at night at a Crusade at Thaveephon Sripachan Church – November 16
• Preaching on Sunday morning at Thaveepon Sripachan Church and evening at Hang Ka Church – November 17
• Preaching in two Government Schools on November 19; returning to Bangkok in the evening
• Preaching in Bangkok Thonburi University – November 20
• Travelling to Kho Samui (Samui Island) – November 21. Ministering in schools, men's prison, women's prison, local churches and the International Church and distributing John's Gospel and Christian booklets around the island. Returning to Bangkok on November 28.
• Preaching at Niwet Haeng Pra Chris Church in Bangkok – November 30
• Preaching at Uloksimung Church at Kachanaburi – December 1
• Travelling to Eastern Thailand – December 2-4
• Preaching at Bangpee School in the morning and conducting revival meeting at Bangpee Church in the evening – December 6
• Preaching at Ban Haeng Pra Pon Church – December 7
• Preaching at Saengsawang Chinese Church in the morning and Bangkat Church in the afternoon – December 8.
• Farewell to George and Rita – December 10 (see you both next year)
• Continuing our Christmas Outreach in Central Thailand – December 13-14
• Christmas Outreach in Petchaburi in South Thailand – December 17-19
• Christmas program in TPTL Church at Angthong's Pothong District – December 21-22
• Christmas program at open air meetings at TPTL's Church at Chanthaburi's Klung District – December 23-24
• Christmas program at Sathorn Chinese Church – December 25
• Christmas program at TPTL's Church at Kanchanaburi – December 28-30
Once again we thank you for your prayer and partnership with us. May God bless you all richly and grant you His strength, love, wisdom and peace.