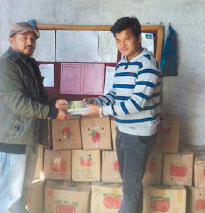 By Sandeep Sikarmi
50,000 copies of John's Gospel have been printed and I am now distributing them to Himalayan Crusade, Agape, Shalu, Milan, Uthsaha, Dhading and Aashish churches. The Gospels have reached many places in Nepal and many churches are planning to use them in their Christmas programs. We really have been blessed by TPTL. We pray for TPTL and its contributors that God gives them giving hearts and helpful hands.
Pray for Nepal, it is going through a crisis of food, fuel and gas which has been blockaded by India.
Pray for peace between Nepal and India.