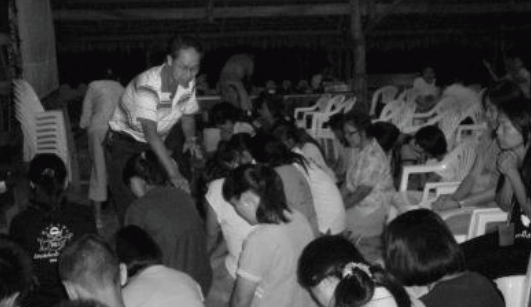 Reported by Somchai Soonthornturasuk – TPTL Evangelist – Thailand
Warm greetings and love to you from all of us here in Thailand in the precious name of our Saviour and Mighty Lord, soon to return Jesus Christ! We thank Him for allowing us to serve Him and to share His great love through His Son, Jesus Christ, with all people here in Thailand. He has blessed and continued to bless our ministry and our family. All praise be to Him!
We thank all of you for your encouragement, support and faithfulness in prayer! Some of you have been doing this for many years. We thank God for every remembrance of you.
It is our pleasure to share with you what God has done in our 2013 Summer Evangelistic Outreach Campaign during February, March, April and May. We have many exciting experiences and stories to share but it is difficult to tell all of them. We will therefore just highlight some stories and show some photos.
Our ministry requires constant travelling, especially to places where the Gospel has not been preached. Generally people in various villages and towns are receptive of our visit and show interest in the Living God. We prayed for 100 people to come to know Christ. Praise God, 137 people accepted Him as personal Saviour!
Our February Outreach was held in Northeast Thailand-Cambodia border, in the extremely difficult regions: Buri Ram's Lahan Sai, Ban Kruat, Pra Khon Chai, Pra Sat, Kap Coenng, Sangkha. Bandits were a constant source of danger. Some of them tried to disrupt our open-air meetings. We thank God for protecting us; and we praise Him for 32 people who accepted Christ as Saviour. We thank the pastors and members of churches in the surrounding areas for their support and warm fellowship. We are praying that God will lead us back to the Cambodia border again in the near future.
On March 2 to 15 I led a Leadership Conference at the Prayer Mountain in Chonburi's Ban Bung District. About 100 pastors and church leaders attended. After the Conference we went to Eastern Thailand to continue our Outreach Campaign. Teams of volunteers from local churches helped to distribute the Gospel of John and Ed Long's booklets on Loneliness, Worry, Fear and Life after Death at the fresh food markets, weekend markets, villages and individual homes. Open-air evangelistic meetings were held at night. Praise and glory be to God for 42 villagers who responded to the altar calls to commit their lives to Jesus. There were many who showed interest.
During the month of April, Saengthong held a Sunday School Teachers Training Course and a Children's Summer Camp at Thaveeponsipachan Church in Suphanburi Province, 90 Sunday School Teachers from Central Thailand attended the training and about 200 children came to the camp. Open-air meetings held near the church and in different villages and night markets brought a total of 56 adults and children to Christ.
The month of May was a very wet season. Heavy rain made it difficult to hold open-air meetings. But, thank God that we were able to hold a few meetings in school and church halls. Many copies of the John's Gospel were distributed in villages, government flats and slums. We also talk to small groups of people about salvation in Christ. Praise God for 7 people accepted Christ as personal Saviour.
We thank God for the 137 new Christians! They have all been encouraged to attend local churches. Some of them have been given the Holy Bible. We are grateful to God for His protection in some dangerous encounters along the way. We thank Him too for numbers of Bible College students spent their time with us to practice doing evangelism.
Please Pray with us for:
Journey mercies as we travel from place to place
New Christians that they will continue to grow spiritually as they participate in the follow-up program
Preaching God's Word throughout Thailand
Correspondence Course students
Saengthong and my health and safety
Our TPTL Churches in Thailand