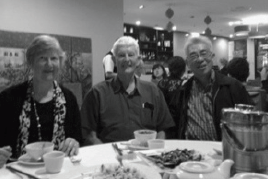 For some time, our TPTL Executive Board, in reviewing the work of Stephen Downie, our Field Worker, has felt a strong need for an associate officer. Since his appointment eleven years ago, Stephen apart from his periodic missions overseas, has travelled extensively within Australia., promoting TPTL ministry and sharing the Gospel of Jesus Christ.
Requests for him from churches and fellowship groups in various towns and cities have increased greatly each year. After much prayer, God has led us to Fred Strong, accompanied by his wife, Ruth, to us.
Fred has been appointed Associate Field Officer (part time) with effect from 1 July 2013. He will be based in Melbourne and in the first instance Victoria will be his place of ministry, with the possibility of extending to Tasmania and South Australia. Ruth has been accepted as a member of the Executive Board. Let us uphold him in our daily prayers.
Fred & Ruth Strong's Profile
Fred: I was born in Oakleigh, Melbourne, in 1941. Three months prior to my birth, my father was killed in an accident. I had some issues at school. My friendship with a few undesirables nearly landed me in trouble. I left school at the age of 14. in 1958 I came to the Lord. This dramatically changed my life. I attended Oakleigh South Methodist Church and, as I loved singing, having been singing for three years of age, I joined the Oakleigh South Methodist Church Choir. It was during this time that I came into contact with Victor Franklin, a wonderful Christian and a famous tenor with the Australian Opera Company. For seven years, from 1962, I was trained under him. At the end of that period I decided to sing for Jesus, to be a Gospel Singer.
In 1966 I attended the Melbourne Bible Institute for two years and was attached to Murrumbeena Baptist Church.There, God opened doors for me to sing around Melbourne. I was invited to be the lead singer and conductor of the Southern Gospel Group called "The Proclaimers" for 15 months. In 1975, I joined a missionary organisation called One Mission Society (OMS) International. In 1977, I met my wife. Together we served in Canberra, Vanuatu and the Soloman Islands. As a Youth Director I travelled through most of Australia, challenging young people to commit their lives to Jesus and go to Bible College. I also had the privilege of singing with OMS in United States of America and Canada.
While ministering with OMS Ruth and I became great friends with Ian Hughes, a wonderful pianist. We formed a Gospel Music Ministry, travelling around Melbourne and Victorian country areas singing, sharing my testimony and preaching. I had also the privilege of singing with Gordon Moyes on Turn Round Australia that was televised nationally.
Around 2007 Ruth and I were visiting a nearby Church to hear a visiting African preacher. Before he shared his message, he pointed me out and prophesied, "The man with the white hair… God hasn't finished with you yet! He has work for you to do." Of course I had no idea what that meant.
Some months later I came into contact with Stephen Downie with whom I had ministered in the Youth for Christ ministry over many years. He told me he was with TPTL and was planning a trip to United Arab Emirates (UAE) to share the Gospel of Jesus and the ministry of TPTL, and to raise funds. I gladly accepted his invitation to come along and sing. God has enabled me and my friend Ian Hughes to join Stephen in Dubai, Sharjar and Abu Dhabi for the last three years. This has raised my interest in TPTL. In response to my inquiry about the possibility of being involved in the work, I have been appointed as Associate Field Officer (part time) with the effect from 1 July 2013. Accompanied by Ruth, I will be seeking to minister in churches in Melbourne and country areas of Victoria. Please pray that God will open doors for us to share God's Word and the work of TPTL through songs, testimonies and preaching, and challenging people to commit their lives to Jesus Christ.
Ruth: I was born in Queensland and brought up on a farm. My parents were committed Christians and I have three wonderful sisters. I worked as a legal secretary and for the Bible Society before travelling to England in 1970 on a working holiday. On my way home to Australia in June 1972 I visited Pokhra, Nepal, where my sister served as a missionary. I helped out in the Mission Office for six months and had a marvelous time fellowshipping with the missionaries, and learning a bit of the language from a Nepali language teacher, as well as trekking to outlaying villags and meeting some Nepali people.
Back in Australia, I resumed my work in the legal office before joining OMS International. I married Fred and together we served with that organisation until 1982 when we moved to Melbourne. After our two children were settled in school, I returned to the workforce, and I have completed over 25 years in administrative role at Chubb.
I gave my heart to the Lord Jesus when I was 14 years of age and have served in different capacities in missions, being a chairperson of the Board of Mission in my previous church. I am now involved in prayer, hospitality and visitors lounge at City Life Church in Melbourne.
I retired at Easter of this year. As well as enjoying the freedom of not having to wake up at 4:00am each day and working well into the evenings on most occasions, I will be able to help Fred carry out the ministry of TPTL. God is at work all over the world and we want to be used by Him to spread His Word which we believe will bring light and life to untold millions.