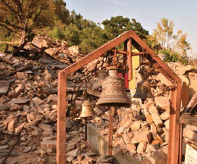 Please pray for recovery of the nation of Nepal since the 7.8 earthquake devastated their country. Over 8,000 people have lost their lives, 1000's injured & homeless, homes damaged. Many ancient monuments and heritage listed buildings destroyed. This has been the worst earthquake in 80yrs.
Praise to God that Sandeep and his family are safe. $2,200 will be sent for practical needs of food, water and clothing. Sandeep is already helping at Sindupalcok, Nawalpur Villages.
We have received a request to print Gospels of John in Nepal following the first print of 100,000, another 50,000 and all have been distributed, given the earthquake we must respond to this call. Thanks to a Church in UAE for giving $1,900 towards Gospel printing.