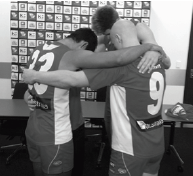 Reflection by Stephen Downie, TPTL Field Officer
We all know sport is a religion in Australia. We say the days of weekend shopping, Sunday sport and all manner of things on the day of rest had a big effect on Church attendance and Sunday School.
Australians also worship the beach, the sun, and money. Yet more people attend Church over the year than sporting events in
Australia. There are more Churches (13,000) than Schools (9,500) in Australia. More people attend Church each week (1.8 million) than the population of South Australia. (1.6 million)
In fact all sporting codes are under pressure with their attendances because people are getting bored with the game, irritated by the referees and regulations of the game, disgusted with the mix of alcohol and gambling and the cost of seeing the game; all sports are looking over their shoulders with the advance of soccer.
If more sport is played on Good Friday it will be up to the people to vote with their feel and not attend.
It is a strange thing about America that you cannot pray in a school but often prayer is offered at a Sport's stadium.
"I've had enough of sport", says one author unknown.
"It's all about money."
"The seats are too hard."
"The coach never speaks to me."
"There are too many hypocrites in the game."
"Some games go too long."
"The music is too loud."
"I don't take my children to a game because I want them to choose for themselves."
The most respected Sportsperson in Australia is Gary Abblett of the AFL Gold Coast Suns. He is a Christian. He has won the
Brownlow medal twice and was a certainty to win it in 2014 but for his injury. He and a few others in the Gold Coast Suns were given time off during one week to attend a Christian Conference in Sydney. He, with a few other players from the Suns, takes time for prayer before going out for the games.
There are some famous names in sport that have given the game away because, for them, it had become all-consuming. It was
more important for them to serve the Lord than be famous in sport.
C T Studd the great cricketer, and Eric Liddell of Chariots of Fire fame and famous Olympic runner and who played 7 Rugby Union tests: both these famous sportspeople became missionaries.
It is important to keep a balance with Sport and your personal faith in God. If your team wins or loses the faithfulness of the Lord is shown to be more precious than the roller coaster ride and fickleness of sport.