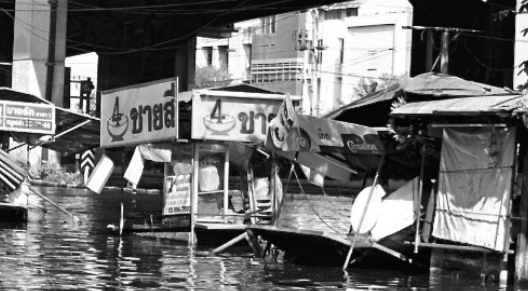 Greetings and love from all of us here in Thailand in the precious name of our soon to return Jesus Christ! We continue to be committed to serve Him through our outreach ministry, and we thank you for your encouragement, faithful prayer and support.
Severe flooding occurred during the 2011 monsoon season, triggered by the tropical storm, "Nock-ten", at the end of July. It spread through the provinces of Northern, North Eastern and Central Thailand along the Mekong and Chao Phraya river basins and inundated parts of Bangkok in October. In some areas flooding persisted until mid January.
A total of 815 people lost their lives and about 14 million people's livelihood was greatly affected. More than 900,000 people lost their jobs. There were symptoms of hopelessness, depression, and stress, especially among people in underdeveloped areas. Many suffered from health problems.
We thank God that our TPTL Compassion and Care Program, through volunteer teams, were able to distribute foodstuff and clothing to the flood victims. Our volunteers also helped to rescue people affected by the flood, clean the streets, repair damaged homes, and provide temporary shelters.
During this worst flooding that our country had ever experienced, we continued our evangelistic outreach, as well as distributing the Gospel of John and Christian Literature in schools, slums, government flats, and houses in Bangkok and upcountry.
Our Christmas Outreach (12th November to 11th December) was again led by George and Rita Galieh, and their son, Michael. This was their 18th year of partnership in this ministry.
They preached in Government schools, Buddhist schools, private schools, jails, hospitals, national parks, orphanages, shopping centres, markets, slums, hotels, churches, and in open-air meetings.
Their gift of music, art and preaching made significant impact on the lives of people, especially those who, by God's grace, committed their lives to Jesus Christ.
In Buriram Province in Northeast Thailand, George and Rita presented the Gospel stories through drama to students and teachers in schools. Some headmasters told us that they had never seen such an amazing program and that the students were very lucky to see it. It is heart-warming that they want us to visit the schools again.
We thank God for His abundant blessing, provision and protection throughout our outreach during Bangkok's worst flood. 21,500 copies of the Gospel of John were distributed. 96 students and adults accepted Christ as their Saviour. Praise and glory be to God!
Please pray with us for:
• New Christians that they will grow spiritually
• Summer Outreach from February to May
• Journey mercy as we travel from place to place
• Our TPTL churches
• Compassion and Care Relief Program
• Our health
• Youth and children's camps during summer.