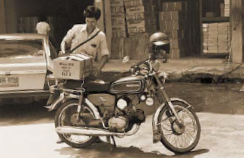 We celebrate 40 years of ministry in Thailand with Somchai Soonthornturasuk.
He began evangelizing on August 1, 1975 by distributing 100,000 Gospels of John, in the Thai language, on the back of a motor
bike, the bike has since been replaced by many vans over the ensuing years. As well as planting churches and preaching in churches, schools, orphanages, shopping centres and prisons, he and his wife Saengthong visit villages through jungles and conduct open air meetings all over Thailand and borders of neighbouring countries.
Thanks to Churches, individuals and Christian Enterprises for their faithful support in all that time. As long as this amazing couple have health they will continue in ministry.
It has been quite testing and difficult for the past three months to serve the Lord in the villages, because of Martial Law, but we can give thanks for His provision and safety.
February outreach was held at the Cambodian border in Eastern Thailand in the extremely difficult regions of Chanthaburi and Trat Provinces. Outlaws and bandits were a constant source of danger, some
tried to disrupt our open air meetings, but God protected us and we thank Him for the 12 people
who accepted Christ as Saviour. We have a small home church on Cambodia's border.
During March I spoke to 120 pastors and leaders at the Leadership Conference in Chonburi's Banbung District, afterwards, with their assistance, we continued our outreach in the villages and towns. Praise and glory to God for 5 people who made a
decision.
Children and a youth camps were held at Khao Kro Church high in the mountains at Phetchaboon, they are the hill tribes, where 26 people accepted Christ. In April we held open air meetings at night in central Thailand near churches and night markets.
There were 8 who decided to accept Christ publicly and many showed great interest. We do want to thank you and glorify God for the 48 people who were saved.