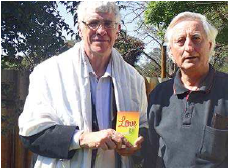 By Stephen Downie, Field Officer
Rabbi Dugarme was a Senior Rabbi in a Synagogue in Melbourne. He was in line to be the leading Rabbi in Australia. He was married and highly educated in Orthodox Jewry.
Someone gave him a copy of TPTL New Testament and he tentatively started secretly doing the Correspondence Course. Each lesson invited him to make the prayer of accepting Jesus into his heart, but he found it very hard and he knew the consequences. There came a time, after about two years, that he prayed the prayer for salvation and his life dramatically changed. He was born again but he was severely persecuted. His wife divorced him, the Synagogue leaders beat him up, punched him in the nose and threw him out. There is a grave in Jerusalem, because he is regarded as dead. He was a man normally of high social standing, but he became destitute and friendless.
He knew Johnny Cash the country and western singer. He went to a telephone box and used the phone on reverse charges. 'Please put me through to Johnny Cash' he said to the operator 'Oh yeah' she said. He gave her the number and June Carter the wife of Johnny Cash answered. 'It's the Rabbi' she called out. Rabbi Dugarme explained his situation and how he was now a follower of Yeshua (Jesus). Johnny Cash arranged a plane fare to America and he stayed in the home of Johnny Cash and June Carter for 18 months. In that time he met Billy Graham and was a guest on the Crusade platform. He continues to be friends with Cliff Barrows.
The journey of his conversion began with The Pocket Testament League and he wishes to honour that ministry. He gives thanks to God for the love, compassion and acceptance of Johnny Cash and June Carter. Rabbi Dugarme is now a Messianic Jew and leads Bible Studies throughout Australia with a rich love of the Bible.