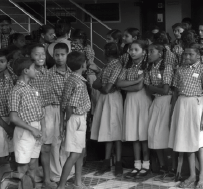 Ephesians 4.29-31
The Prime Minister of Australia, Julia Gillard, says words to this effect: "You cannot understand Australia until you understand the Christian heritage."
The Prime Minister of England, David Cameron, says words to this effect: "The riots in England have shown that we have lost the Christian values and we
are now seeing what it is like to have no moral compass."
In so many circumstances you can see the race to the bottom in Australian media to devalue Christian values and to undermine the Christian gospel. We
are in a spiritual warfare! Walk the length and breath of India and everywhere you would go, you would see the outcome of Christianity in that land because of Christian compassion with lepers, the very poor, hospitals, schools, orphanages and charity. The signs of Christian footprints are everywhere in India.
We visited Yuvalok Christian School in Bangalore, the southern part of India. It is a school that survives on donations. There were 540 students, dressed in
uniform, looking healthy and bright eyed. The Principal of the school said, "All these students would have been on the street begging if it were not
for this school. We give them two meals a day, a good education and a Christian place to learn. They go back to poor homes, relations that are beggars,
all of them are orphans, 16 are HIV positive." This is the story of the Christian gospel all over India.
In Uganda the Christian Church ministers to HIV positive victims with compassion and care. Many victims cannot get to a medical clinic without
walking 6 hours. Women in Uganda are finding hope in the Christian gospel. Instead of them being treated as less valued than cows they find in the Bible and in the Church that they are valued and made in the image of God.
The Church in Uganda is seeing much blessing because of the ministry of God's Word and the compassion of God's people to those downtrodden,
rejected and exploited people. After a Church Service in Fujairah in the United Arab Emirates, a doctor and his dentist wife asked me to come to their home. I was reluctant because I had a two-hour journey back and another meeting in Dubai at night.
When I got to their home, I was given a cup of tea and then told that in the next room was a sister who was in her fifties and had been intellectually
handicapped since 4 years old. In the room, I had the family with me – the handicapped lady in her bed. I was aware that these
two people beside me were educated, one a doctor and the other a dentist. Yet with all the knowledge they knew they needed Divine help! Their humility
and their faith deeply touched me. In my mind's eye I could see theologians debating what should be done about this bed-ridden lady and her difficult
condition.
I prayed for this lady with the same simplicity and faith that this Christian couple was sharing with me. I later heard that the immediate danger to her health
had passed. I believe that wherever the Christian gospel takes hold you will always find love, goodwill, prayer and kindness!