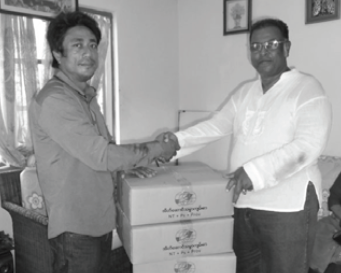 Reported by Joseph Rajan – TPTL, Myanmar
It is always good to serve the Lord and to be a blessing to people who do not know Jesus as personal Saviour. Through preaching, teaching, reading God's Word, and evangelism, many people are being transformed by the power of Christ. Psalm 111:10 says, "The fear of the Lord is the beginning of wisdom; all who follow His precepts have good understanding." Worldly wisdom can leave our life empty but Godly wisdom reveals to us the ultimate truth that is found in Jesus and God's Word.
"Scorpion" and "White Snake" are the most dangerous and notorious gangs in Myanmar. They are famous for all kinds of evil. At an evangelistic meeting recently, I heard the testimony of Yan Naing, the leader of these gangs. Many people were astonished at what he said. Many young people did not believe that such a thing had taken place.
Yan Naing, street fighter, drug user, drunkard, evildoer, was imprisoned for 12 years. He was also infamous during his jail term. Two years before his release he met a Christian lady who had been visiting her brother fortnightly. She gave him some Christian literature and a New Testament with Psalms and Proverbs (NT+Ps+Pv) and encouraged him to read them. She also talked to him about God's love and how Jesus died on the cross.
Yan Naing became a changed person. People in the prison noticed it. With the help of some fellow prisoners who had become Christians, he started worship services for prisoners. After his release 2 years ago he established a self-supporting prison minsitry and rehabilitation centre. Today, he and a group of former prisoners visit prisons, rehabilitation centres and shut-in alcoholics and drug addicts around Myanmar, sharing the Good News of Jesus with them, and giving them the Gospel of John, NT+Pr+Pv, and Ed Long's booklets on: Fear, Anger, Loneliness, Life after Death, Investing in the Future, Heaven. Praise God!
NT+Ps+Pv Project:
Over 35,000 copies have been distributed in many parts of Myanmar, and about 10,000 copies will be sent to the Irrawaddy Division and nearby areas soon. People are receiving and reading the Word of God with joy.
In early May this year I attended the Myanmar Youth Global Conference in Chiang Mai. Over 3,000 workers from Myanmar and many other countries attended. I was so happy to see, among the delegates, workers from Thailand reading NT+Pr+Pv! These were lowly paid workers. to have a copy of their own was a great blessing to them.
Benjamin from the Anglican Bishop's Court in Palletwa on the Chin Hills bordering the Rakhine State where peace and tranquility do not prevail said, By God's grace I received copies of John's Gospel and Ed Long booklets from some friends. We do not have the opportunity to share the Good News in person with the Rakhine people up in the mountains due to the situation there. But we manage to get some of the booklets to them and this is the best way to share salvation in Jesus with them. Please send more booklets to help us in this ministry.
Praise God forfunds received for the printing of 50,000 copies of John's Gospel, 60,000 of Ed Long's booklets: the distribution of NT+Pr+Pv, and the transformation of Yan Naing's life.
Pray for the printing and distribution of John's Gospel and Ed Long's booklets; the ministry of Yan Naing and his friends; the transformation of the lives of those who read the books they have received; peace and tranquility in Myanmar; and good health for Joseph and Molly.