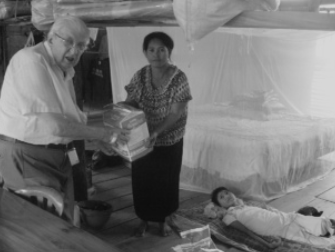 Tribute from Dr W D Archbold, at the Service of Thanksgiving:
I would like to prefix my brief remarks by reading two verses of Scripture. They are a record of the Apostle Paul's commendation of his brother in the Lord and fellow worker, Titus.
"As for Titus, he is my partner and fellow worker among you; as for our brothers, they are representatives of the churches
and an honour to Christ. Therefore show these men the proof of your love and the reason for our pride in you, so that the
churches can see it." (2 Corinthians 8:23-24 – NIV)
George's life and ministry was an honour to Christ and also the reason why we can take pride in his effective management of TPTL. Therefore I consider it a great honour to be asked to speak about our brother and his long association with The Pocket Testament League.
I first met George in the mid eighties. From time to time Sydney Festival Male Voice Choir was asked to sing at a TPTL Presentation. As I was one of the Choir's Evangelists, I went with them and it was there that I first met George.
Sometime later, the League was looking for someone to work with them as their Evangelist. Brother Keith Williams approached me, and that is briefly how I became associated with TPTL.
It was my pleasure to work with the League for the best of a decade. During which I came to know our brother quite well.
During this entire time George was the President and in that capacity I was in regular touch with him. It was about six years ago that
the League celebrated George's 30th Anniversary as President, which means, as he died in office his tenure as President was almost 40 years.
This evidences George's deep passion for this wonderful work for the Lord. I think I could say that it was his consuming desire to see the Word of God placed into the hands of as many people as possible.
He had a special interest in an overseas Evangelist whose name is Somchai. And George made numerous visits to Thailand to encourage him in his distribution of the Gospel of John. It was George who encouraged Somchai to take up the responsibility of the work of TPTL in Thailand, which he had done for over 40 years.
I discovered that George was a very generous man. In 1993 TPTL celebrated its 100th Anniversary. George invited me and my wife, Jean, to join him as Australian TPTL representatives to attend this commemorative conference in the United Kingdom. We had a wonderful time at the Conference and also visiting various sites associated with TPTL. For example, we went to Cadbury Chocolate Factory and, of course, other places as well. We had a little bit of problem keeping George away from chocolates! He said he was buying them for his wife, but I
had some doubts about that.
George personally covered every cent of both our travelling expenses. All of the people who were and are associated with TPTL in one
way or another are deeply appreciative of George's huge contribution to this ministry. He will be greatly missed. The Lord has called George home but those who still remain have very fond memories of our dear brother.