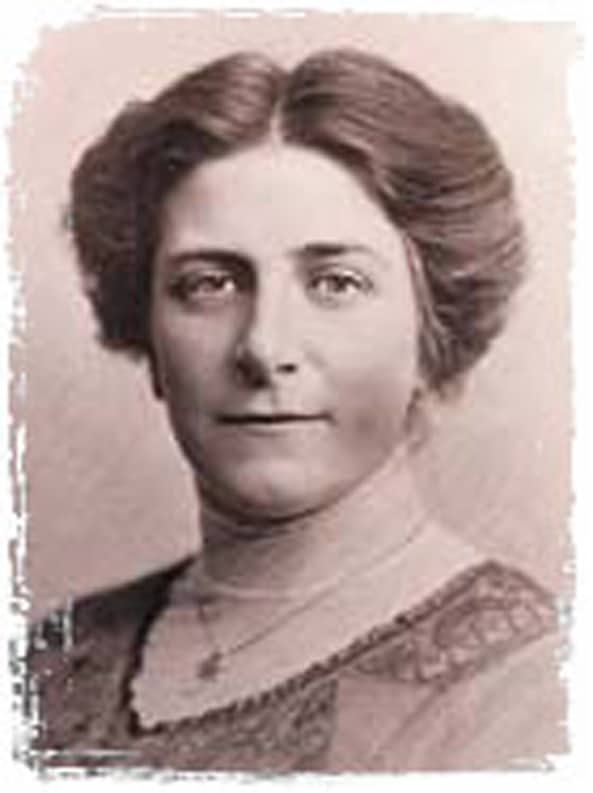 In the late nineteenth century in England, in 1877, Helen Cadbury was born into a wealthy Christian family. Her grandfather, John Cadbury, had founded Cadbury, the great cocoa and chocolate company in Birmingham, later taking his brother, Benjamin, into partnership. Her father, Richard Cadbury, and his brother, George, relocated their expanding factory to a garden setting in Bournville, near Birmingham.
In a family of eight, three older brothers and two older sisters brought many interests into the lives of Helen and her younger sisters. Moseley Hall, their home for much of their lives, provided a romantic background for their varied activities. The large estate was ringed with fields and woods beyond the lawns and gardens around the old house. A lake, fringed with rushes and with a tree-shaded island, provided fishing and boating in summer and skating in the winter.
Richard Cadbury's joy was to share all these lovely things with others. Sunday school, Bible classes, Mothers' meetings and Christian workers of every denomination were frequent and welcome guests at Moseley Hall. There, the whole household met daily before breakfast for ten minutes of Bible reading and prayer.
When Helen was twelve years old, she went with her father one Sunday evening to a gospel meeting at the mission hall that he had built in one of the slum districts of Birmingham. She sat at the back of the hall, watching the mission members as they brought in people from the neighbourhood, all looking poor and hungry, and many affected by alcohol. She knew that some of the mission people had once been just like the hopeless people whom they brought to the meeting, yet tonight they were singing hymns with real joy and conviction.
Something had dramatically changed their lives. Helen knew that it was the power of God. The preacher finished his address and then asked all those who wished to publicly confess they were putting their faith in Jesus Christ to stand up. Helen had been brought up by devoutly Christian parents, but she now understood that that in itself did not make her a Christian. She knew Jesus Christ had died on the cross so that she might have eternal life and she now had to respond personally to what He had done for her. In her heart was a hunger, a desire to know God as her parents did. She stood up, along with several other people.
The preacher then asked them to go to a small room behind the pulpit where mission members would pray with them. Helen felt a struggle going on inside her, but found the courage to step into the aisle. Hesitantly she went forward feeling very alone and very young. There in the room was her father, talking with one of the men who had stood up in the hall. After he had prayed with the man, he came over to her at once with a tender smile on his face and a joyful light in his eyes. Together they knelt by the hard mission hall chairs as Helen asked the Lord Jesus to come into her heart.
The heavy burden was gone and Helen could now confess herself as a Christian. From that day, she had a great purpose in life. She was a follower of the Lord Jesus Christ now and her longing was to bring others to Him to receive the gift of everlasting life that He wanted to bestow.
She was only a beginner as a worker for Jesus, but there was a mission field right at hand, among the girls at school. So Helen put a Bible in her desk. Beckoning to the last girl to leave the classroom to come and look, Helen showed her a text, saying "whoever – that means everybody – that means you". She and another schoolgirl, who was a believer in the Lord Jesus, prayed for their friends and led some of them to Christ. They discussed the difficulty of carrying a large Bible around with them in the playground where opportunities came more often than in the classroom.
Gradually the idea came of always carrying in their pockets a small New Testament that they could use anywhere, anytime. Later, they formed themselves into a little organisation called "The Pocket Testament League", members of which carried part of God's Word with them, reading a portion of it daily and trying to lead others to Christ.
In 1904, the American song-leader, Charles Alexander, came to England with Dr Torrey to conduct evangelistic missions. He fell in love with Helen Cadbury and married her. The Pocket Testament League, first started by a schoolgirl in Birmingham, was revived and launched through evangelistic campaigns to become the worldwide movement it is today.
One thing stands out clearly: God has a purpose for every life and that purpose can only be fulfilled when we yield to Him and humbly accept the forgiveness and new life He extends through His Son, Jesus Christ. Have you accepted what He offers? You can do so now. The Scriptures say "Here I am, I stand at the door and knock; if any man hears my voice and
opens the door, I will come in." (Revelation 3:20).
If you have accepted Christ, are you fulfilling His purpose for your life, to bring the knowledge of Him to others? You can start now. You can tell the people with whom you live, work or go to school that "whoever" means everybody – it means you – and that "whoever believes in Him should not perish, but have eternal life." (John 3:16).
In order to talk about The Pocket Testament League, it is useful to know something about the man who was responsible for its spread world-wide – Charles McCallon Alexander.
Charles was born in October 1867, in East Tennessee, USA. His father, John, a good singer and violinist, taught him to read music at a young age and to beat time with his hands. His mother was also a great influence on his life, reading Moody's sermons and talking much with him and his siblings. By the age of 9, he had read the entire Bible. When he was 13, he committed his life to Christ and made a public profession of his faith. He studied music at Maryville University and eventually became a Professor of Music.
His father's death had a profound impact on his life. He said,
"The night my father died, there came to me, as never before, the worth of a human soul…I was not absolutely sure whether my father was in heaven… I knew he was an elder in a church… I cried to God, 'If there is any way that You reveal Yourself to people, whether by vision or voice or impression, give me the certainty that my father is with You, and safe' and I promised Him that I would serve Him all my life if He would give me the assurance. As clearly as anything I ever experienced, the impression came to me, 'Your father is up here safe with Me.' There and then I promised to serve Him all my life…"
He declared later that, at that moment as he looked up at the stars, he felt the load lifted right off him.
In 1892, Charles went to the Moody Bible Institute. Then for eight years, he did evangelistic work with Mr. M. B. Williams, the State Secretary for the YMCA in Georgia, USA. He was also the song leader for Billy Sunday, an evangelist in Chicago.
In 1902, he came to Australia as song leader for Dr. Torrey's missions in Melbourne, Hobart and Sydney. There was much revival. He then went to Britain with Dr. Torrey in 1903. There was revival there too. In Birmingham in 1904, he met Helen Cadbury, daughter of the late Richard Cadbury, a Christian philanthropist whose family had founded the Cadbury chocolate factory. He married her later that year.
Charles had been trying to find an attractive and practical way of bringing the Bible into the lives of people. During the Torrey-Alexander campaign in February 1906, he heard of George T. B. Davis' "Testament Circles" in Philadelphia, whose members pledged to carry a New Testament in their pockets. He decided in 1907 that he would urge people to adopt that habit.
When his wife heard this, she exclaimed, 'That reminds me of our old Pocket Testament League at the high school". She told her husband and Mr. Davis, who was present, about what she had done among her school mates after she became a Christian at the age of twelve. She had carried a Bible to school and read verses from it to her friends, with the result that many of them were converted. Later she invited her friends to carry New Testaments in their pockets in the playground and they called themselves, "The Pocket Testament League"
Charles immediately decided to revive The Pocket Testament League. The most important change made was not to confine it to Christians but seek to enlist anyone who would carry a New Testament and read a chapter a day. This led to many conversions.
The Pocket Testament League (TPTL) became a prominent feature in Charles' work. It was officially launched in 1908 during an evangelistic campaign with Dr. Wilbur Chapman in Philadelphia.
It was begun in Melbourne, in 1909 when he, Mr Davis and Dr Chapman held a four month Australian campaign. Mr Davis, who spoke, said "We want the League to spread all over the land. It will bring the greatest revival this Commonwealth has ever known." It did spread like wildfire throughout Australia and across the world with thousands coming to know Jesus Christ.
Charles felt the need of a headquarters for TPTL. In 1914, at his own expense, he rented a small room in Paternoster Row in London, near St. Paul's Cathedral, which he and Helen furnished. A Miss MacGill of Glasgow was the honorary secretary.
Not long after the establishment of the headquarters, England faced war. Had it not been for the new office, the work could never have developed in the marvellous way that it did. Hundreds of British soldiers and sailors became Christians. Later news reached the office that over nine thousand soldiers had signed the TPTL pledge.
Promotion of TPTL ministry also occurred in American camps during the war. Branches were formed all over America.
Charles promoted TPTL until his death in 1920. Inscribed on his tombstone was a verse of "The Glory Song":
When by the gift of His infinite grace, I am accorded in heaven a place,
Just to be there and to look on His face, Will through the ages be glory for me.
Helen continued the work of TPTL. At the first International Conference held in 1928 at "Tennessee" (Helen's home) in Birmingham, it was affirmed that TPTL would be "a world-wide movement uniting all those who make a regular habit of reading the Word of God daily and of carrying a Bible or New Testament with them wherever they go."
It was agreed that TPTL's aim would be "to exalt the Word of God by inducing others to adopt the same habit in order that Christians may be spiritually strengthened and equipped as soul-winners and that the unconverted may be led to accept Christ as their Saviour."
The Foundation of Belief, which included the pledge, "I hereby accept membership in The Pocket Testament League by making it the habit of my life to read a portion of the Bible each day (at least a chapter, if possible) and to carry a Bible or New Testament with me wherever I go" was adopted and signed by Helen, the Founder and International President, and several people from other countries.
Helen actively promoted TPTL for many years. By 1936, there were 5 million members in TPTL. She died in 1969 at the age of 92, having seen millions of New Testaments carried in many pockets.
Since those early days, TPTL has spread to many parts of the world with many members continuing what Helen began, and what she and Charles revived.
References
Alexander, Helen C and Maclean, J Kennedy:
Charles M. Alexander: A Romance of Song and Soul Winning
Published by Marshall Brothers Ltd, London.
Fact Sheet on The Pocket Testament League.
James, Leslie: The Quaker Girl and Her League. Published in 1986
by The Paternoster Press, Exeter, Devon.
Fox, Simon: Helen Cadbury and Charles M. Alexander.
Published in 1989 by Marshall Morgan and Scott Publications Ltd, London.